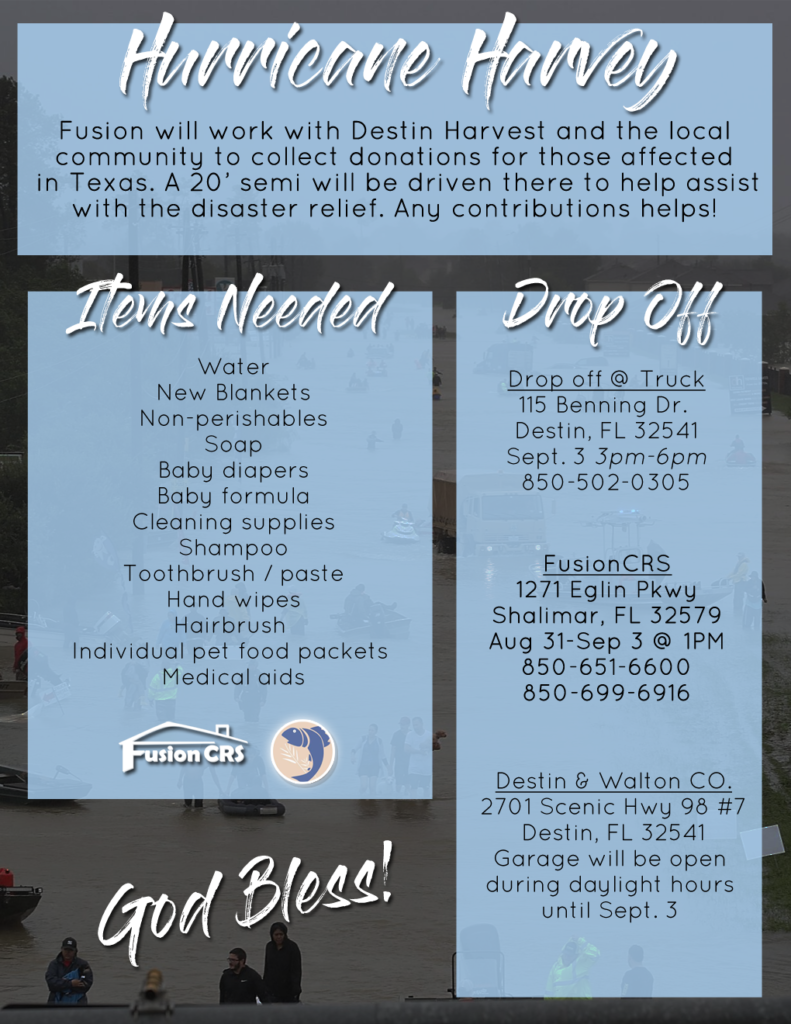 FusionCRS is no stranger to witnessing the effects of a natural disaster and how much damage can be done. Helping the victims of Hurricane Harvey has been a priority of our company since the moment we heard about it. I realize that this storm may not have touched our community physically, but that shouldn't stop anyone from helping to rebuild the lives and communities in Texas.  It doesn't matter who you are, where you're from, what you believe in — our people are in need. It's a tragedy that no one ever wants to go through. I watched the news for updates and kept thinking, "that could have been my home… my car… my family." Here at FusionCRS, we can't just sit back and watch. We encourage everyone, especially local business, to do what you can! FusionCRS will be working with Destin Harvest in efforts to raise money and donations that will go directly to the victims.  We will be donating $500 worth of needed supplies and we encourage EVERYONE to help as well.
What can you do to help Hurricane Harvey Victims?
Any contribution helps – big or small! You may have noticed that there's several organizations that are accepting donations. Do your research to be sure it's legitimate. If you have any questions feel free to call our office at 850-651-6600. We can assist with making sure your donations get to the right place.
What should I donate?
The needed items has been provided by the governor of Texas and Mayor of Houston. They're asking that these items be provided in backpacks. Either a used backpack in good condition or a cheap one from Walmart will do. If all you have are items, those will work too. Frost Jones is the point of contact for this initiative. She is establishing local drop off locations for the items. If you would like to provide items, or help in any way, please contact her directly at 850-502-0305.